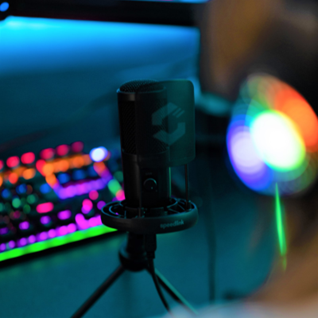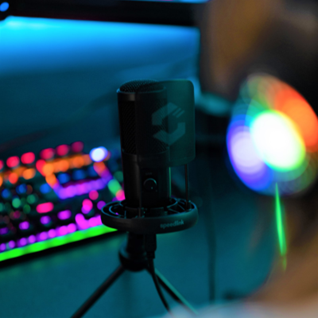 AUDIS PRO Streaming Microphone, black
Available, delivery time 3-4 days
Decoration articles not included
Highlight
Successful podcasts and streams stand out through one thing: excellent audio quality. With the AUDIS PRO Desktop Streaming Microphone, you can make sure that your content is always recorded professionally and crystal-clear. The compact condenser microphone with cardioid directionality effectively blocks disruptive background noise while recording what happens in front of the microphone. At the same time, unwanted sounds such as breathing and plosives (P, K, B etc.) are effectively blocked by a foam windscreen and metallic pop filter. Thanks to the shock-absorbent holder and stable tripod, even lively discussions and environments are no problem. At the same time, the practical volume controller on the front of the microphone makes adjusting the sensitivity of your recordings simple and possible at any time. If you want to bring your production to the next level, the AUDIS PRO Desktop Streaming Microphone is exactly what you need.
Technical data
EAN: 4027301519068
Product Number: SL-800013-BK
Streaming microphone
Tripod with shock mount
Windscreen
Pop filter
Plug & play
Microphone type: 14mm electret condenser
Frequency: 20Hz-20kHz
Equivalent noise level: 16dBA max.
Sampling rate: 176kHz/24bit
Directional characteristic: cardioid
Impedance: 1.2kΩ
Sensitivity: -13.5dBFS (±3dB, 94dB SPL at 1kHz)
Signal-to-noise ratio: 60dB
Sound pressure level: max. 110dB
Connection: USB-A
Cable length: 1.5m
Dimensions including tripod: 173 × 170 × 290mm (W × H × D)
Dimensions of microphone: 47 × 52 × 141mm (W × H × D)
Weight: 335g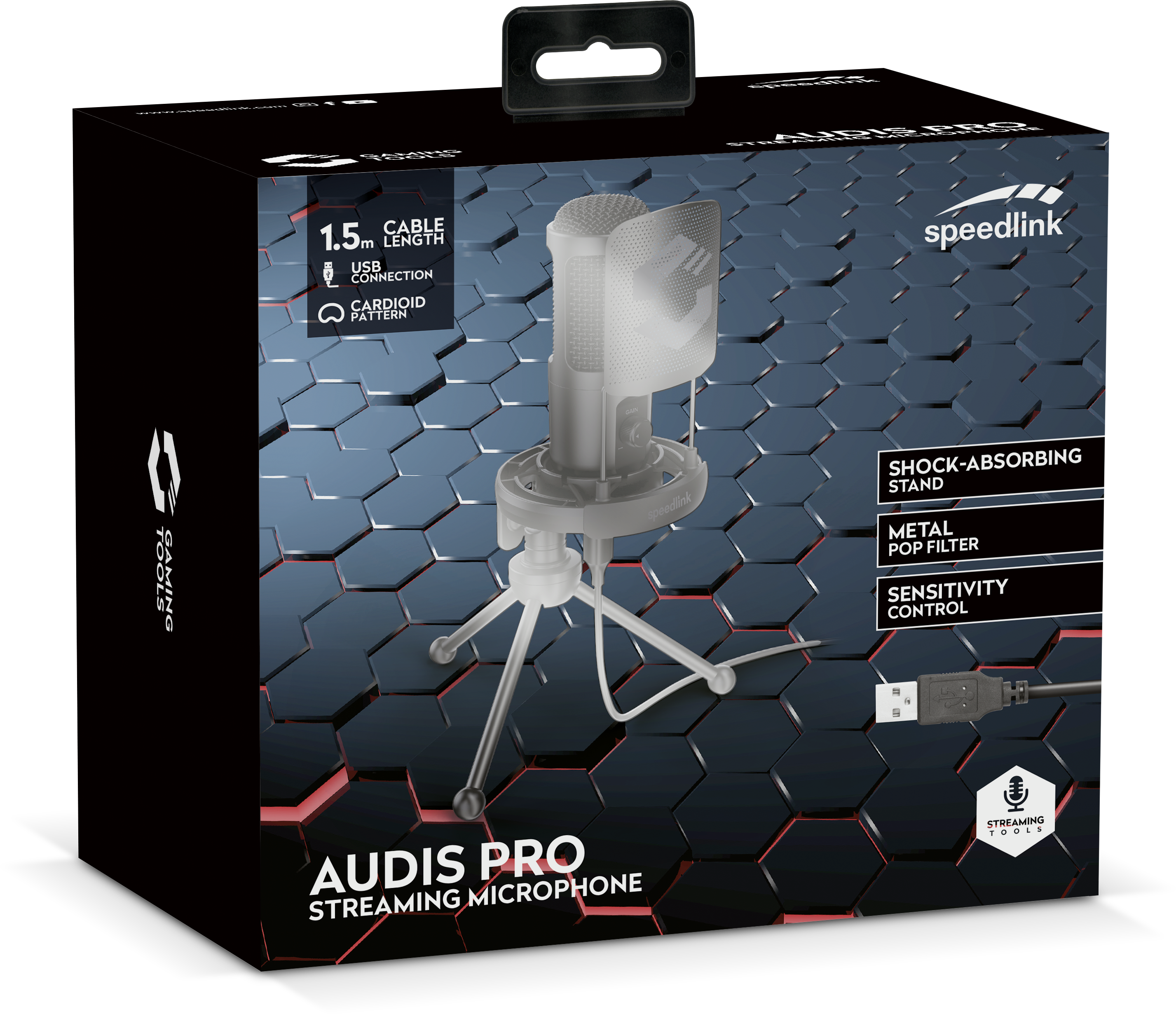 saubere Verarbeitung
hoher und rutschfester Dreifuß
abnehmbares USB-Kabel
gute Sprachqualität (inkl. Hintergrundfilter)
einfache Bedienung direkt am Gerät
Plug & Play
Pop-Filter und Windschutz im Lieferumfang enthalten
sehr fairer Preis
"Das Speedlink AUDIS PRO Streaming Microphone bietet für 69,99 € UVP eine überzeugende Leistung. Plug & Play funktioniert reibungslos, die Audioaufnahmen sind wie beworben kristallklar und der frontal platzierte Drehregler zum Einstellen des Eingangspegels lässt auch eine Software nicht vermissen. Das AUDIS PRO ist sehr gut verarbeitet und der metallene Popfilter wertet optisch auf. Daher vergeben wir guten Gewissens unsere Empfehlung. Wer ein Mikrofon sucht, welches seinen Job sehr gut erledigt ohne groß Einstellungen tätigen zu müssen, wird sehr zufrieden sein."
"Die Audioqualität dürfte für diesen Einsatzzweck dabei problemfrei ausreichend sein: Stimmen werden klar aufgenommen, und die Vibrationsentkopplung sowie die beiden verbauten Popschutze verrichten eine gute Arbeit."