AXON Silent & Antibacterial Mouse - USB, rubber-black
€14.99*
previously €24.99*
Decoration articles not included
Get notified as soon as article is back in stock
Highlight
The AXON Silent & Antibacterial Mouse makes using your PC relaxing and effortless. Its perfectly designed ergonomic shape and full-size body offer comfort and grip, with the silent main buttons performing clicks that are quiet but precise. The surface also has an antibacterial coating which kills up to 99% of bacteria – so along with stopping those annoying clicks, the AXON also makes your workplace more hygienic.
Technical data
EAN: 4027301305739
Product Number: SL-610009-RRBK
5-button USB mouse
Antibacterial coating – kills up to 99% of bacteria
Silent main buttons for quiet clicks
Non-slip rubberised side panels
Ergonomic, full-size design with easy access thumb buttons
Optical sensor with an adjustable resolution of up to 2400dpi
Practical dpi switch
Fast, driverless installation
Cable length: 1.5m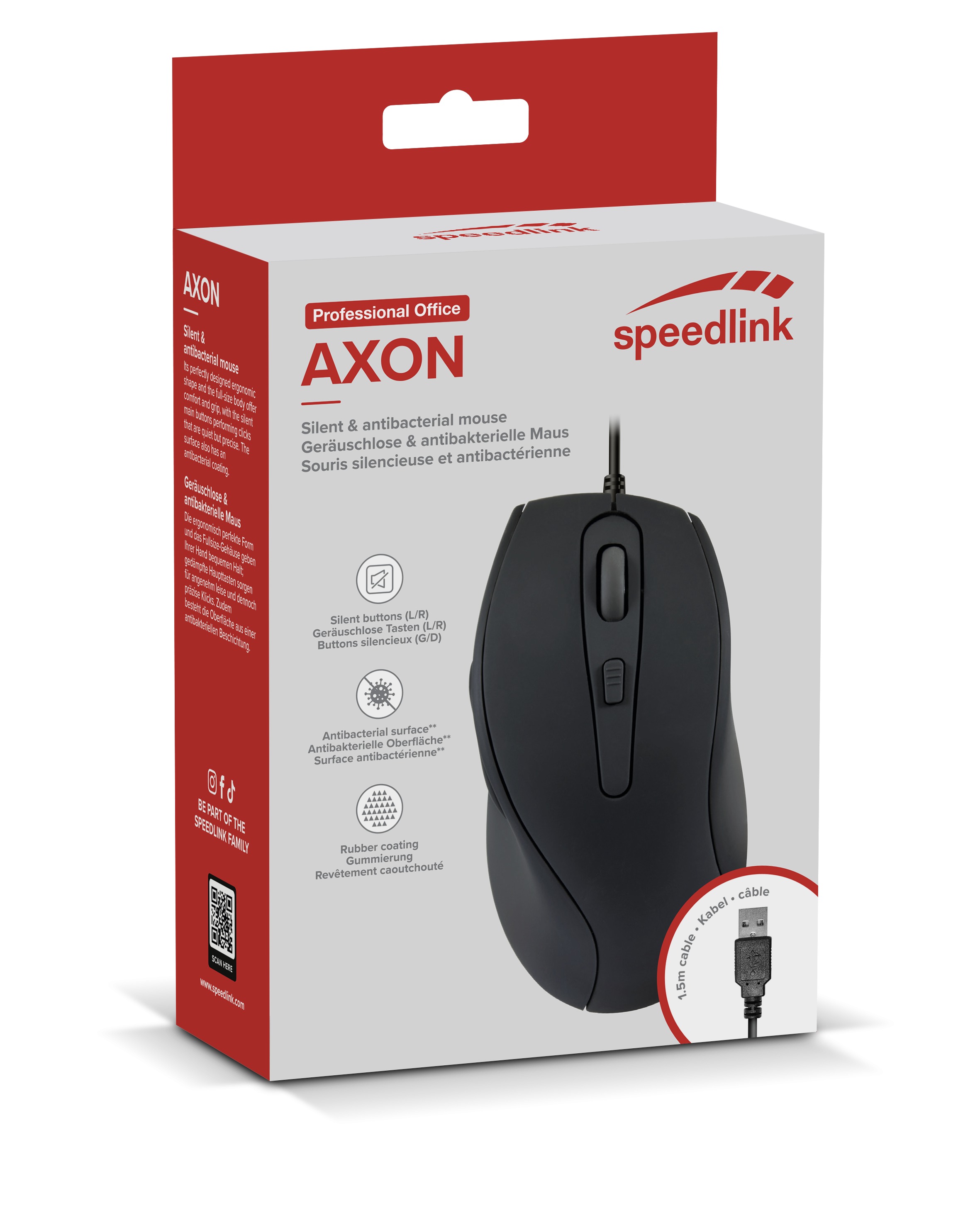 Windows 7 (32-Bit)
Windows 7 (64-Bit)
Windows 8 (32-Bit)
Windows 8 (64-Bit)
Windows 8.1 (32-Bit)
Windows 8.1 (64-Bit)
Windows 10 (32-Bit)
Windows 10 (64-Bit)
Windows 11

How do I change the mouse's button mapping?
On Windows® the mouse uses the operating system's native drivers to make installation as simple as possible. The drivers do not allow you to remap buttons. However, to map other commands to buttons you can use additional software. There are many freeware versions available online that don't cost anything to use. Please note in this regard that we provide no warranty whatsoever for third-party software.

Where can I find drivers for this product?
This product uses the operating system's native driver. Simply connect the product while the PC is running, and the hardware should be installed automatically.

Will the mouse work on a wooden surface?
Yes, the mouse should perform brilliantly on that type of surface.


"...Mit der Möglichkeit, die Auflösung über den Schalter umzustellen, kann jeder, die für sich angenehmste Einstellung wählen und bietet dadurch einen zusätzlichen Komfort
...Mit dem Preis von 16,99 €, den man bei seriösen Händlern zahlt, ist sie für eine antibakterielle Maus sehr günstig. Mit der Kombination aus der leichten Ergonomie, ist dies eine Kombination, die darüber hinaus nur selten auf dem Markt vertreten ist... "
Gute Preisleistung
Leises Klicken
Ansprechendes Design
Gute Haptik