GRAVITY RGB 2.1 Subwoofer System, black
Decoration articles not included
Get notified as soon as article is back in stock
Highlight
The GRAVITY RGB is an active 2.1 sound system for PC or notebook use. And with 16.7 million colours to choose from, the subwoofer and satellites' RGB illumination add a stunning splash of colour to the system. With six different modes (incl. Off) to choose from you can even configure the light effects to match the music you're playing for a real disco feeling at home. And for maximum versatility and universal compatibility you can connect the GRAVITY RGB system to your multimedia device, smartphone or tablet using an AUX cable or even via BLUETOOTH®. The powerful subwoofer delivers deep bass and incredible world-rocking high-volume sound. Plus, the practical desktop remote makes it a breeze to control the speaker system – and thanks to its mains switch and auto stand-by mode, zero power is wasted.
Technical data
EAN: 4027301815474
Product Number: SL-830105-BK
Active 2.1 sound system for PC/notebook
Bluetooth® smartphone/tablet connection
RGB lighting in 16.7 million colours
6 colour modes: Running, Multicolour Static, Breathing, Single Colour Static, Off, With The Beat
Powerful subwoofer with wooden housing for deep bass and high-volume sound
Separate desktop remote for convenient volume control
Desktop remote with AUX-in socket
Additional volume and bass control on the subwoofer
Mains switch for zero power wastage
Stand-by mode
Outstanding multimedia performance for games, music and movies
Output power (RMS): 60W
120W peak power
Drivers: 2×3″ (7.6cm) + 6.5″ (16.5cm)
S/N ratio: ≥60dB
Frequency: 40Hz-20KHz
Subwoofer dimensions: 261 × 259 × 263mm (W × H × D)
Satellite dimensions: 108 × 182 × 119mm (W × H × D)
Satellite cable length: 1.6m
Power cable length: 1.5m
Remote cable length: 1.5m
Total weight: 4.5kg
"Mit dem 2.1-Soundsystem Speedlink Gravity RGB hat der Hersteller ein rundes Gesamtpaket geschnürt. Das Design ist schick, die Bedienung intuitiv und die Einrichtung kinderleicht. Auch klanglich gibt das Lautsprechersystem eine durchaus gute Figur ab..."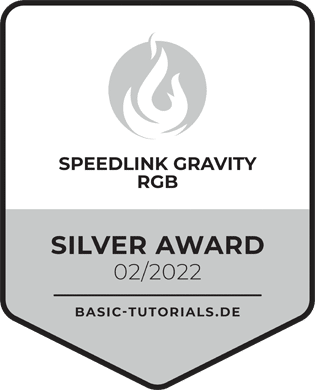 "Saubere Verarbeitung, ansprechende Materialien und vor allem ein überraschend differenziertes Klangspektrum, bei dem auf Wunsch die Bässe kräftig betont werden können, ohne Verzerrungen zu riskieren: Das preisgünstige 2.1 Lautsprechersystem leistet sich klanglich keine Schwächen und lässt sich weder von wummernden Beats noch detailfreudigen Mittenbereichen an die Grenzen der Leistungsfähigkeit bringen..."
"Bei mir zu Hause hat das Speedlink Gravity RGB 2.1 Subwoofer System seine Fans ganz eindeutig gefunden. Es ist mittlerweile ein solch fester Bestandteil, dass es nicht mehr wegzudenken wäre. Und mit den RGB Farben hat es auch bei Kindergeburtstagen für einen lustigen Effekt gesorgt, während es einen tollen Sound ablieferte."