JIXSTER Mouse - Bluetooth, black
Support only
Decoration articles not included
Highlight
Lightning-fast BLUETOOTH® 3.0 technology makes the JIXSTER the perfect addition to your laptop or tablet as well as a truly dependable companion for your desktop PC. And it does all this completely wirelessly with a range of up to 10m. With a 1,600dpi polling rate, the optical sensor on this 3-button mouse guarantees maximum precision. What's more, besides its power-saving mode you can use the in-built switch to completely deactivate the mouse and save its battery.
Technical data
EAN: 4027301471236
Product Number: SL-630100-BK
3-button BLUETOOTH® mouse
Optical sensor with precise 1,600dpi resolution
Up to 10m range
Multi-device compatibility
Suitable for left- or right-handers
Rubberised scroll wheel
Quick and easy installation – no additional drivers needed
On/off switch
Power-saving mode
Battery included (1 × AA)
Dimensions: 60 × 101 × 39mm (W × D × H)
Weight: 82g (incl. battery)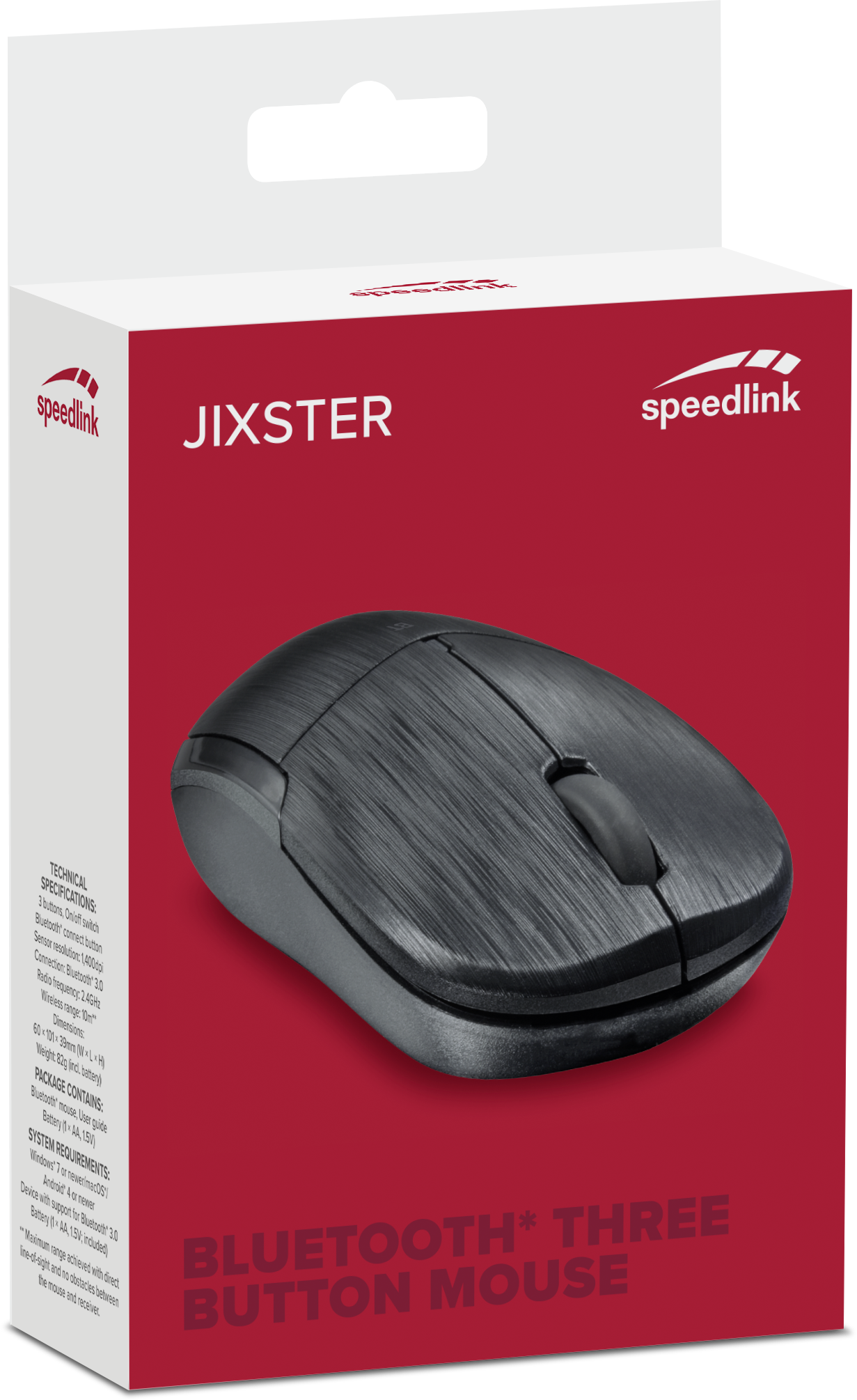 Android
MacOS
Windows XP (32-Bit)
Windows Vista (32-Bit)
Windows Vista (64-Bit)
Windows 7 (32-Bit)
Windows 7 (64-Bit)
Windows 8 (32-Bit)
Windows 8 (64-Bit)
Windows 10 (32-Bit)
Windows 10 (64-Bit)
Is there a power-saving mode?
Yes, after a short period of inactivity the mouse will switch automatically to power-saving mode.

Where can I find drivers for this product?This product uses the operating system's native driver. Simply connect the product while the PC is running, and the hardware should be installed automatically.

Why isn't my mouse listed under the Bluetooth devices?
Many PCs, including the Mac®, don't come with a Bluetooth receiver. So that your mouse can be found and used on these devices, a dongle (Bluetooth adapter) is required. Simply plug this into a USB port and the mouse should be found the next time you scan for Bluetooth devices.