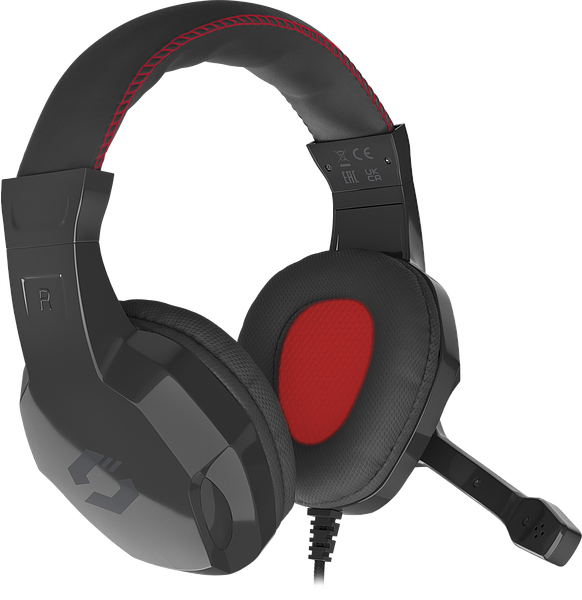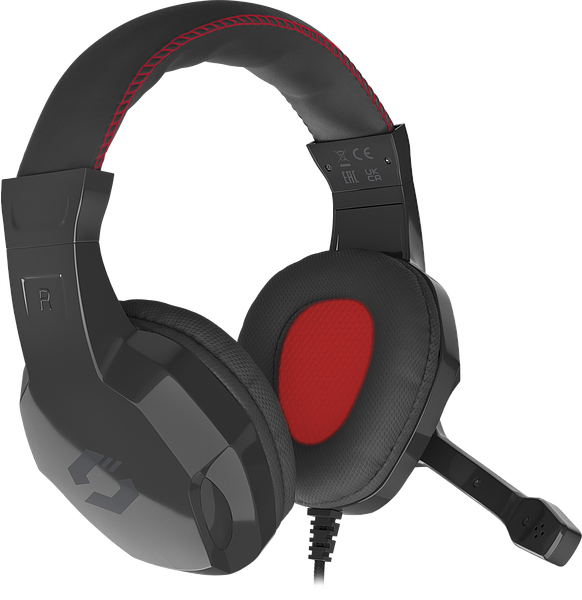 LUNERA 4in1 Illuminated Gaming Set, black - DE layout
€49.99*
%
€59.99*
(16.67% saved)
previously €59.99*
Available, delivery time 3-4 days
Decoration articles not included
Highlight
With the LUNERA 4in1 Illuminated Gaming Set, you are perfectly equipped and set up. The four-part set, consisting of a keyboard, headset, mouse and mousepad, was designed with the most important gamer needs in mind and is optically coordinated. The height-adjustable keyboard with a sturdy metal surface, full-size keypad and highlighted WASD keys offers optimal conditions for fast-pasted missions. Thanks to its five buttons and dpi switch, the rubberized mouse is also performance-oriented and prepared for any gaming situation. This is supported by a soft, non-slip mousepad. Both the keyboard and mouse accompany you on your adventures with multi-colour illumination creating a cool atmosphere. The pleasantly padded headset with a foldable microphone arm and cable remote control means that you are always connected to your teammates and also ensures that you are supplied with perfect stereo sound.

Technical data
EAN: 4027301505702
Product Number: SL-670305-BK
Gaming Set: Keyboard, headset, mouse, mousepad
Multi-colour illumination on keyboard and mouse
Keyboard: 5 illumination modes (on/off, 3 × brightness, breathing effect), full-size keyboard, additional functions via Fn-key
Headset: Driver size: 40mm, impedance headphones: 32Ω, headphone frequency response: 20Hz-20kHz, SPL: 105dB ± 3dB at 1kHz, power: 40mW, impedance microphone: 2.2kΩ, microphone sensitivity: -58dB ± 3dB at 1kHz, pick-up pattern: omnidirectional Mouse: 5 buttons + dpi switch, sensor resolution: 800 / 1,200 / 2,400 / 3,200 dpi
Connection keyboard and mouse: USB-A
Connection headset: Double 3.5mm jack plug
Cable length keyboard and mouse: 1.5m
Cable length headset: 1.8mDimensions keyboard: 475 × 165 × 40mm (W × D × H)
Dimensions headset: 185 × 200 - 220 (adjustable) × 90mm (W × H × D)
Dimensions mouse: 125 × 68 × 40mm (L × W × H)
Dimensions mousepad: 300 × 240 × 3mm (L × W × H)
Weight keyboard: 720g (incl. cable)
Weight headset: 250g (incl. cable)
Weight mouse: 85g (incl. cable)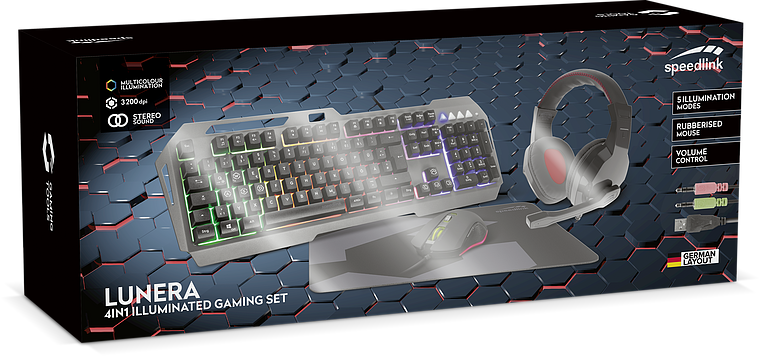 MacOS
Windows 7 (32-Bit)
Windows 7 (64-Bit)
Windows 8 (32-Bit)
Windows 8 (64-Bit)
Windows 8.1 (32-Bit)
Windows 8.1 (64-Bit)
Windows 10 (32-Bit)
Windows 10 (64-Bit)

"Mit dem Gaming Deskset LUNERA bietet Speedlink ein überraschend gutes Deskset. Man erhält hier eine sehr gut verarbeitete, zuverlässige Peripherie. Darüber hinaus stellt diese noch ein optisches Highlight dar. Natürlich handelt es sich hier nicht um Peripherie für den Pro-Gamer, aber grade Gaming-Einsteiger oder Gelegenheitsspieler können hier zugreifen."