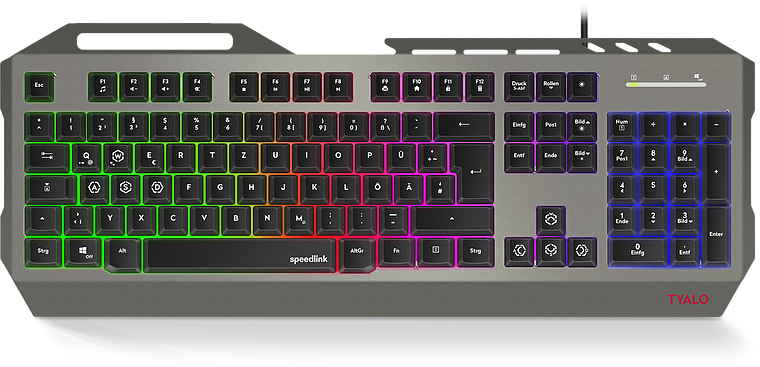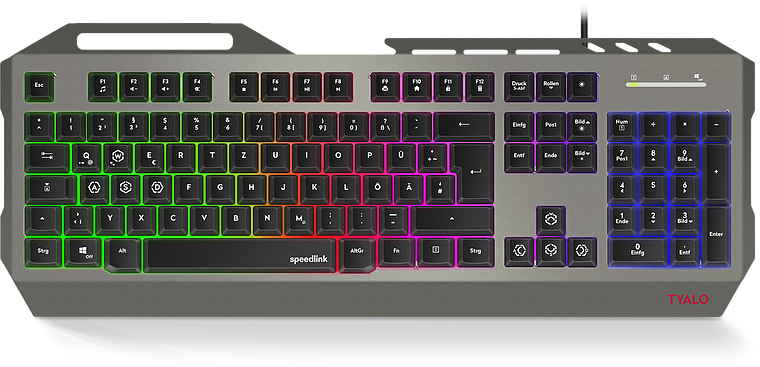 TYALO Illuminated Gaming Deskset - DE layout
Decoration articles not included
Get notified as soon as article is back in stock
Highlight
The perfect piece of kit for thrilling, action-packed gaming adventures – with an ultra-cool look. The TYALO Gaming Deskset is the perfect match for your awesome gaming room with its futuristic metallic design and breathtaking mouse and keyboard light effects. The mouse features five ergonomically placed buttons for total game domination, with its two DPI switches enabling you to toggle the sensor between 1,200dpi to 3,200 dpi and fine tune it to suit the on-screen action. Your mouse will glide as fast as lightning across the accompanying mousepad's soft textile surface, enabling the mouse to accurately sense your every reaction. Meanwhile, the keyboard features coded WASD and arrow keys so you always locate the right key even when things get heated in the game – plus it boasts anti-ghosting technology with 19-key rollover. The keyboard's metal frame is stunning and robust, capable of withstanding a hammering while staying rooted to the spot thanks to the non-skid base. It also features an integrated smartphone dock so you can keep an eye on chats, calls or even online walkthroughs... just in case.
Technical data
EAN: 4027301556629
Product Number: SL-670300-BK
USB mouse, USB keyboard and mousepad set
Multicolour LED lighting for mouse and keyboard
Mouse: 5 ergonomically placed buttons and 2 DPI switches, optical sensor with adjustable resolution (1,200/1,600/2,400/3,200dpi), 1,000Hz polling rate, braided cable
Keyboard: 12 multifunction keys for direct function access, anti-ghosting with 19-key rollover, coded WASD and arrow keys, sturdy metal frame, practical smartphone holder, anti-skid base, customisable tilt, adjustable key repetition rate
Mousepad: Soft and smooth fabric surface, non-slip backing
Mouse and keyboard connection: USB-A
Mouse and keyboard cable length: 1.5m
Mouse dimensions: 130 × 70 × 35mm (L × W × H)
Mouse weight: 130g (incl. cable)
Keyboard dimensions: 465 × 180 × 40mm (W × D × H)
Keyboard weight: 886g (incl. cable)
Mousepad dimensions: 250 × 210 × 3mm (W × D × H)
Mousepad weight: 88g Windows 7 (32-Bit)
Windows 7 (64-Bit)
Windows 8 (32-Bit)
Windows 8 (64-Bit)
Windows 10 (32-Bit)
Windows 8.1 (32-Bit)
Windows 8.1 (64-Bit)
Windows 10 (64-Bit)
How can I adjust the speed of the lighting effect?
Hold down the Fn key and use the two keys to the left of the backspace key to change the speed of the lighting effect.
"... The gaming desk set Tyalo Illuminated from Speedlink is a good set for gaming beginners who do not want to or cannot invest that much money and can even find its place in the home office. It includes a mouse, a rubber dome keyboard and a Small but nice mousepad. The keyboard makes a solid impression and is even clad with a stylish metal frame. In addition, it has lighting that allows us to choose between continuous light and breathing. It is also adjustable in height. The mouse lies well in the Hand, has 5 keys, of which the upper thumb key is very difficult to press, and two DPI keys. For the DPI we can choose between 1200/1600/2400 and 3200, which should be sufficient in most cases. Both keyboard and The mouse is also wired. Unfortunately, there is no software, so we cannot customize the mouse and keyboard, but if you consider the price gment we are, this is okay and manageable. The mousepad is small but nice and does what it should ... "