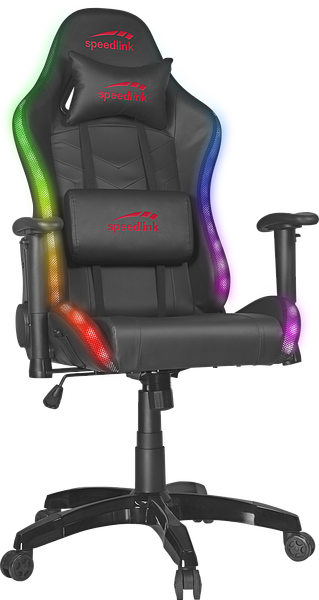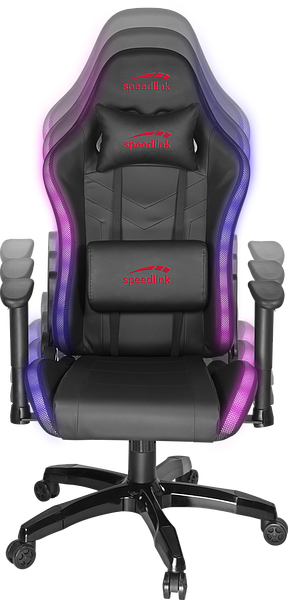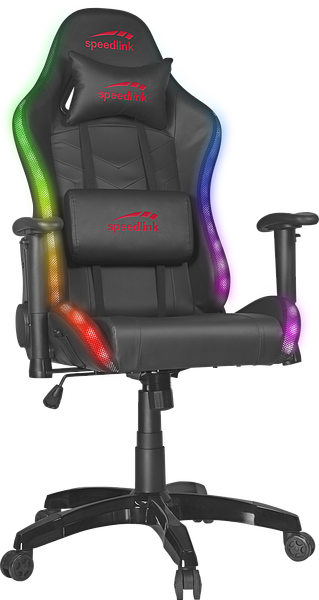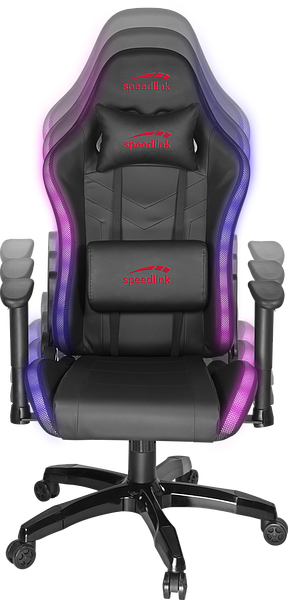 ZAPHYRE RGB Gaming Chair, black
Available, delivery time 3-4 days
Decoration articles not included
Highlight
Light up your command centre and sit in all-conquering comfort for virtual missions, battles and assignments knowing that the stunning ZAPHYRE RGB Gaming Chair has got your back. With 300 colourful lighting modes on offer, you can create the perfect gaming mood to match the on-screen action – and control and configure them all using the handy remote. The ZAPHYRE won't tie you to a mains outlet either as the powerful LEDs are operated via a powerbank that stows in the back of the chair. You'll also reign in supreme comfort with its adjustable backrest – which lets you slip back into a fully horizontal position – full-range rocker mechanism and neck- and lumbar-support pillows.
Technical data
EAN: 4027301689525
Product Number: SL-660008-BK
Gaming chair with RGB illumination
300 illumination effects
Infinitely adjustable seat height
Adjustable backrest recline, including horizontal position (90 to 180°)
Full-range rocker mechanism with adjustable resistance
2 adjustable, removable neck- and lumbar-support pillows
Adjustable armrests
360° swivel design for the best view
Incl. power bank with 5000mAh (approx. 5h running time with maximum brightness and speed) and 4 status LEDs
Compartment for power bank on the back
Incl. remote for illumination control
Compartment for remote
5 × 60mm diameter dual-wheel castors
Nylon base
Material: PU leather
Maximum bodyweight: approx. 150kg
Armrest dimensions: 8 × 28.5 × 62-79cm (W × D × H), difference regardless of seat height: 7.5cm
Seat dimensions: 54 × 50 × 49-57cm (W × D × H)
Height backrest: 82cm
Overall dimensions: 76 × 59-135 × 127-136cm (W × D × H)
Dimensions remote: 8.7 × 4 × 0.7cm (W × D × H)
Weight: approx. 18.8kg
Packaging dimensions: 66 × 84 × 32cm (W × D × H)
Packaging weight: approx. 21.8kg
Assembly tool and coin battery for remote included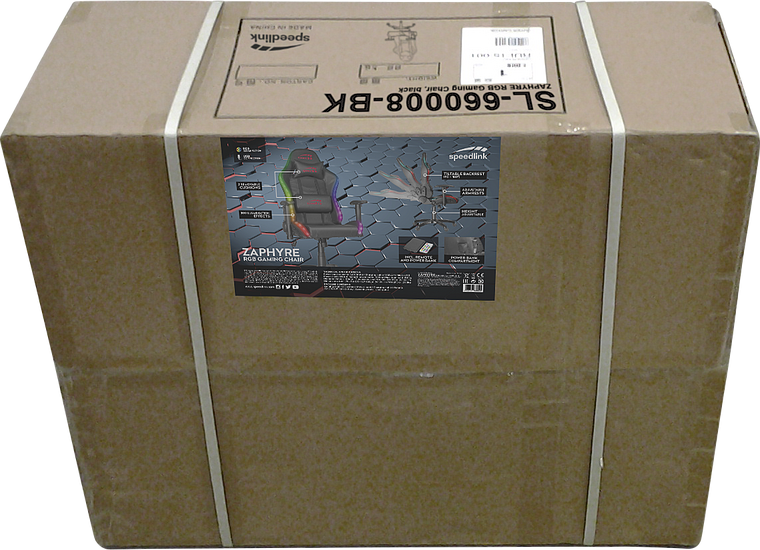 I changed the batteries in my remote, but now it's stopped working.
The chair ships with the remote already paired to it. However, if you change the batteries, you'll need to pair the remote with the chair again. To do so, press the 'lock' button 5 times until the LEDs start to flash white rapidly. You won't need to reconfigure your remote settings, as they are kept after changing the batteries.

The colour the chair lights up in does not match the colour of the colour button.
You'll need to reassign the colours if the chair doesn't light up in the desired colour when pressing a colour button. To do so, press the 'choose effect' button 5 times until all LEDs glow white. Following that, press the red colour button until all LEDs glow red. Repeat these steps for the green and blue colour buttons until all LEDs glow in those particular colours too. Lastly, press the 'choose effect' button again to save your settings. The colour the chair lights up in should now match the particular colour button.


"... With the ZAPHYRE, speedlink has a gaming chair in its range which, despite the sporty design, looks quite simple at first glance, but thanks to the integrated RGB lighting it can perfectly round off its own battlestation and attract everyone's attention Thanks to the integrated lighting, which can also be used independently of a fixed power source with the included power bank, the ZAPHYRE is particularly suitable for gamers and case modders who really want to wrap all the components used in the same lighting pattern 300 different lighting effects are available, which can be easily selected using the supplied remote control. As far as the comfort offered is concerned, the ZAPHYRE RGB gaming chair offers very soft upholstery, which gives you the feeling of sitting on a sofa and not at a desk Unfortunately, the soft upholstery makes you sink one thing that makes the seat appear narrower than it actually is. Thanks to the height adjustment and the easily adjustable backrest, in combination with the two supplied support cushions, an ergonomic sitting position can be achieved. A comfortable sitting position, which invites you to relax, can also be achieved without any problems. ... "
"Der Speedlink ZAPHYRE RGB ist für 285,99 Euro erhältlich und liegt damit im mittleren Preissegment (Gamingstühle mit RGB Beleuchtung, lt. Preisvergleich). Dabei bietet er alle wichtigen Komfortfunktionen. Dies in Verbindung mit seinem ansprechenden Design und der unaufdringlichen Farbgebung, machen ihn zu unserer Kaufempfehlung."